Release of "Logitan", the analytical tool for warehouse operations
Posted Friday, 31st July 2015
Nittsu Research Institute and Consulting, lnc. (Headquartered in Minato-ku, Tokyo, President: Miyachika Kiyofumi) released a new warehouse analytical tool "Logitan", which measures and visualises warehouse operations per staff for analytical use, launching on 1st October 2015.
With "Logitan", just a one tap every 15 minutes or so enables all warehouse operations and working hours per staff to be measured and archived as data. The accumulated data is aggregated automatically on the web system and the results are downloadable in a report format at any time.
Currently, performance measurement of logistics operations is based on manual observation, resulting in a low accuracy, time-consuming data input and aggregation, or some companies even have no idea what to start with. Logitan can provide you with systemised know-how and all necessary equipment is ready for rental, making an easy and quick measurement possible with low cost.
Our standard reports are useful for analysing various indicators such as working hour ratio and picking productivity per day, time, staff, facility or customer. This feature will help you find clues for your overall improvement activities in logistics centres.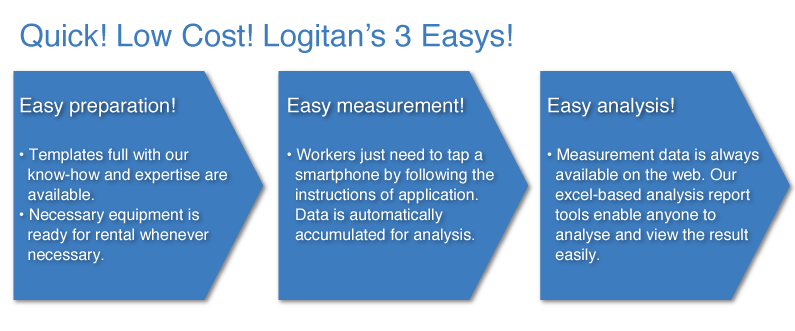 Since our working hour measurement is based on standardised work items, benchmarking and comparison with similar warehouses, in size or other conditions, will be possible after accumulating a certain amount of data. Additionally, taking advantage of multiple functions of smartphones, we are developing new tools to gather and analyse necessary information for streamlining warehouses such as tracing and activity measurement of staffs (automatic recognition of walking and product searching etc.)
Logitan is the optimal solution tool to streamline logistics operations and easily gather effective KPIs (Key Performance Indicators).
Necessary equipment (all can be rented)
 Smartphones
 Belly Bags
 USB chargers (6 ports)
 Barcode Readers
 Equipment storage cases etc.
Patent and trademark
Patent pending
◆ Nittsu Research Institute & Consulting, Inc. (NRIC) periodically publish logistics reports such as "Quarterly Logistics Survey of Shippers in Japan (Nittsu Soken Tankan Survey)" and "Prospects for Freight Transportation". We also conduct researches and surveys and provide consulting services in every aspect of logistics businesses and contribute to both public and private sectors.
We will continuously strive for logistics business solutions; especially optimisation, streamlining, quality improvement, cost saving etc. both inside and outside Japan.
For further information, please contact
Logitan Group
Nittsu Research Institute & Consulting, Inc. (NRIC)
Email: inquiry@mail.logitan.jp
Phone: +81-3-6251-3288

2015.11.19

2015.10.01

2015.09.29

2015.09.25

2015.07.31