Implemention and use of Logitan are very easy! Anyone can start Logitan easily and smoothly.

Easy equipment preparation! (Rental Service)
All the necessary equipment such as smartphones and others can be rented for the duration of working hour measurement.
No need of large investments in system and equipment.
Easy to design measurement! (Logitan Web)
We have prepared lists of work items to be measured, full with know-how and expertise of our professional logistics consultants.
You just have to choose one from 12 readily available templates that suits your objectives. Customisation of work items is possible.
You can also setup your original work items.

12 patterns of work item combinations are initially equipped as standard templates. By clicking items from the list, work list for measurement will be easily produced.
Easy setup of smartphones!
(Logitan Working Hour Measurement Application)
Setting of all workers' information can be done on the web using PC. No need of time-consuming setup on each smartphone.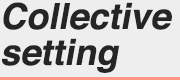 Setting of all workers and work group information can be done on the web using PC, which will be automatically deployed to smartphones. Therefore preparation is easily done.
Minor adjustments can be done on smartphones too.